Erin reads a LOT of stuff. A LOT of stuff. She's read so much that as SOON as people ask for recommendations, she forgets everything she's ever read. Okay, so volume of works and memory challenges aren't really related, but it's an excuse she'll lean on.
Whatever the problem might actually be, she wants to share the books that she thinks about when she otherwise doesn't want to work! Curious? Keep reading for more information!
The Adoption - Magnetic Press
By Zidrou and Arno Monin
The Adoption follows Gabriel, a retired butcher, whose son and daughter-in-law adopt a young girl from Peru. Gabriel is resistant to this new child, but finds himself babysitting her more and more often as the time goes. She worms her way into his life, with a tea set, a dessert menu, and a little pink bicycle. But why does Erin think about this book a lot? Well, the art is gorgeous, the story is bittersweet, and it's a tale about family. As Gabriel learns to love his new granddaughter, he is confronted with how he failed his own children. It's a story of love, family, and the power of a sliced pickle on a sandwich.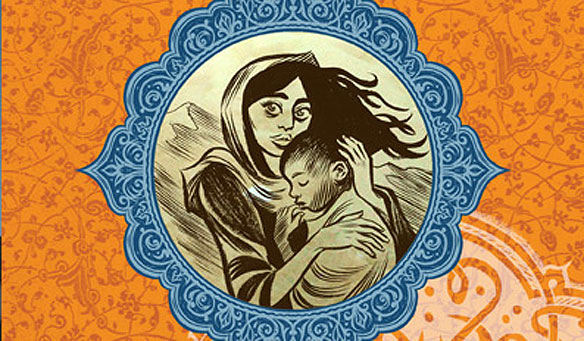 Habibi - Pantheon
By Craig Thompson
Habibi is a tale through time, in a fictional Islamic fairy-tale world, that takes a look at the relationships between humans; humans and the natural world; wealth; countries; and religions. It's a stunning book, with art that draws heavily on the beauty of caligraphy. But this book lingers on Erin's mind for, well, the discomfort in the book. Habibi has been met with significantly mixed reviews - and I think appropriately so. Thompson took on a great endeavor with this 2011 graphic novel, but some think it fell into the same traps of racist or appropriative works. Erin feels it's a bit ambitious for most American readers - it's hard to read a fantastical parable about a culture that was, in 2011, still relatively new to my generation.
Heck
By Zander Cannon
Heck was recommended to Erin by someone who so thoroughly loves this book that he keeps multiple copies in order to freely pass out copies to friends, family, and strangers who have never read it. Heck - short for Hector - is a man who found a portal to hell in his deceased father's house. Burdened with this new responsibility, he takes advantage of it, using it as a means to settle familial disputes between the living and the undead. This particular journey to hell is harsher than he could have expected, requiring more self-recollection and sacrifice - which is why Erin thinks about this one a lot. The art is more stylized and seems a bit simpler than the other works on this list, but the story is something that just... lingers. The harshness, the confrontations, and Heck's ally Elliot really just stuck with Erin. It's hard to shake off the guilt that's written into this story.
Sheets - Lion Forge
By Brenna Thummler
Sheets is targeted to middle schoolers, but even as an adult, the book helped Erin process some lingering grief. It's a story of a girl and a ghost who develop a friendship while coming to terms with death. The girl lost her mother and the ghost is struggling to accept his own demise. They work together to grow and change, becoming stronger people and friends. Brenna's art is beautiful, in varying shades of blue and pink, with characters who fidget with the hem of their shirt when they can't look adults in the eyes. But these characters are strong and work together to keep their lives as close to normal and happy as they can. They're just hard to forget!
Hope you enjoyed this list! Hope about you? Have any books you can't forget?